This show is SOLD OUT. There may be a limited number of tickets available at the door.
November 2, 2019 at 8:00 pm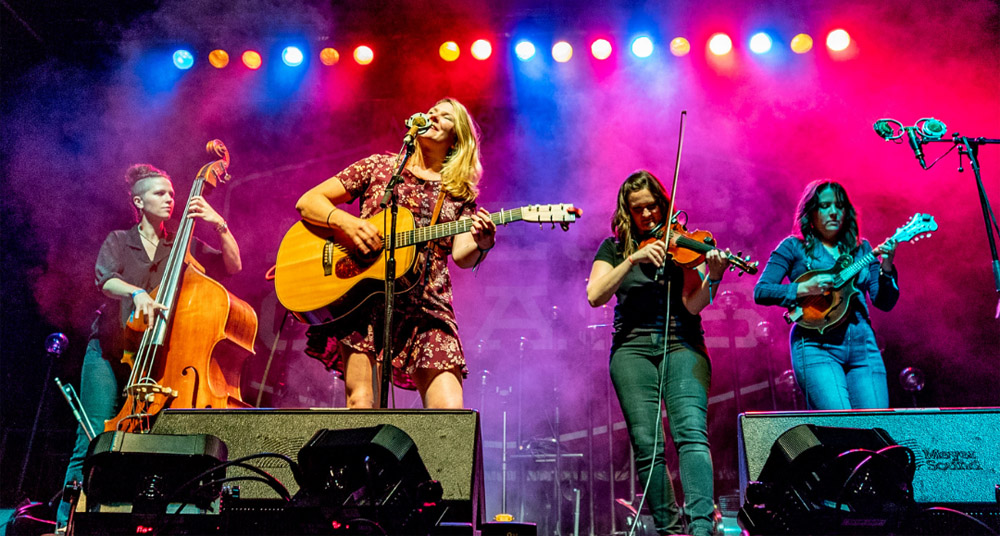 Della Mae is a Grammy-nominated, Nashville-based, all-female string band made up of lead vocalist/guitarist Celia Woodsmith, 2-time national champion fiddle player Kimber Ludiker, mandolinist Jenni Lyn Gardner, and upright bassist Zoe Guigueno. Hailing from across North America, and reared in diverse musical styles, they are one of the most charismatic and engaging roots bands touring today. They have traveled to over 30 countries spreading peace and understanding through music.
Their mission as a band is to showcase top female musicians, and to improve opportunities for women and girls through advocacy, mentorship, programming, and performance.
Since forming in Boston in 2009, Della Mae has established a reputation as a charismatic live act comprised of some of the finest players in bluegrass, Americana and beyond. Originating from different musical backgrounds and states across the US and Canada, each member brings distinct elements that make Della Mae such a beloved band.  Together they have a completely original style – sensitive yet assertive, intense yet playful, steeped in tradition yet undeniably current. Versatile instrumentalists and vocalists, they draw from a bottomless well of roots influences to create vibrant original music that conveys expansive musical vision.  With timeless lyrical truth-telling and an unmistakably contemporary sensibility, they stand alongside such roots-conscious acts as the Avett Brothers, Punch Brothers, the Lumineers, and Hurray for the Riff Raff.
Della Mae was the International Bluegrass Music Association's Emerging Artists of the Year in 2013; Grammy Nominee in 2014 for their debut album, This World Oft Can Be (Rounder Records); and named among Rolling Stone's "10 bands to watch for in 2015." They have since traveled with the US State Department to over 18 countries spreading peace and understanding through music.
Through powerful experiences traveling the world together, the group discovered that Della Mae is more than a recording and touring band.  Their mission to make a difference in the world emerged, and it became clearer that reflection was required to determine Della Mae's next move.
In May 2016, after six years of extensive touring (averaging 220 days on the road per year, travel to over 30 countries and almost all US states), Della Mae took a break from the road. Each member took time to regroup, to pursue individual passions and projects, to regain footing, and to reflect on what they had just done – individually and together. This reflection revealed what Della Mae has come to mean to thousands of fans, to young girls worldwide, and to themselves.
Now, Della Mae is embarking on a new chapter together. In 2018, to further their mission of showcasing top female musicians, select appearances feature special guests including Grammy Award-winning banjo player Alison Brown, Bonnie Paine of Elephant Revival, original Della Mae guitarist Avril Smith, and more.