Thank You! This show has SOLD OUT!
September 14, 2019 at 8:00 pm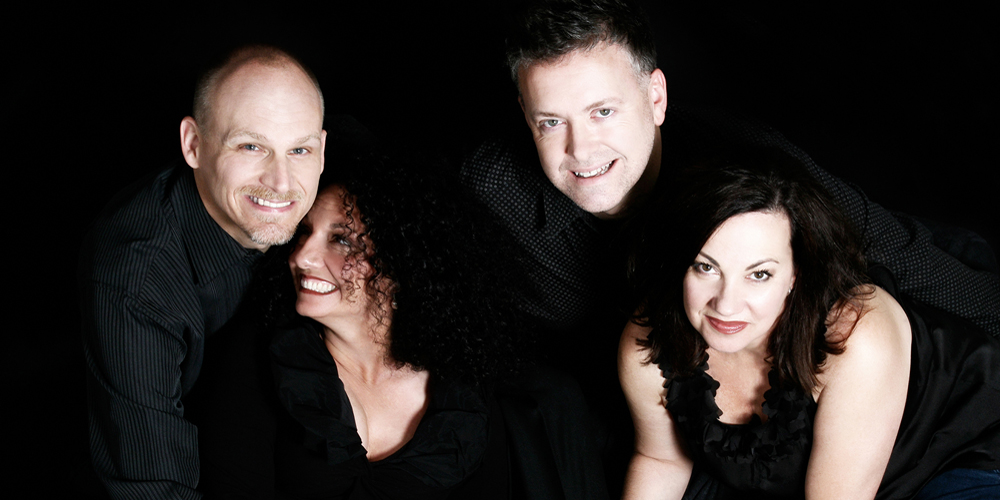 The New York Voices are Kim Nazarian, Peter Eldridge, Lauren Kinhan, and Darmon Meader. 2019 marks the New York Voices' 31st Anniversary and they show no signs of slowing down.  This critically acclaimed vocal group has refined their musical story to a high art.  They are known for their close-knit voicings, inspired arrangements and unparalleled vocal blend.  Their chameleon-like musicianship allows them to move seamlessly from setting to setting, be it orchestral, big band or the intimate trio lineup.  They are "first call" from great arrangers and conductors like Bob Mintzer, Don Sebesky, Michael Abene, Keith Lockhart, and Rob Fisher who all know and admire the complexity of what they do and are looking for something out of the ordinary when developing new projects.  Like the great jazz vocal groups that have come before — Lambert, Hendricks and Ross; Singers Unlimited; and The Manhattan Transfer — they are firmly a part of that legacy and are dedicated to passing it on to  the generations to come.
Along with their concert performances and recording schedules, NYV also works in the field of education, giving workshops and clinics to high school and college music students throughout the world.  It is the bedrock of their organization and has fostered an industry for their artistry to thrive and pass on to the generations to come.  In 2008, they launched the New York Voices Vocal Jazz Camp, now going into its 11th yea.  In 2016, they introduced the New York Voices International Vocal Jazz Camp.
In tandem with their camp, in 2008 they partnered with Michael Molloy at St. Charles North High School to create the annual New York Voices Vocal Jazz Festival.  This day long invitational showcases performances by high school and college vocal jazz ensembles during the day, followed by a clinic by one of the members of NYV.  This special day culminates with a performance by New York Voices with special collaborations with the hosting school's vocal jazz ensemble, big band and string orchestra.  It's a fabulous way to co-mingle with groups from all over and find new inspiration to take back to the classroom for students and directors alike.
NYV has also enjoyed the opportunity to work in the pops symphony community.  The Boston Pops knocked first and commissioned an orchestral expansion on the big band.  NYV has added to these programs over the years, allowing them to dive into the gorgeous landscape of symphonic settings and build a new following of music appreciators and programmers.  Individually, the four members are also involved in a variety of projects including solo performances and recordings, teaching, writing and arranging.