September 24, 2022 at 8:00 pm

With an international reputation as one of the most popular brass ensembles today, Canadian Brass has truly earned the distinction of "the world's most famous brass group."
Masters of concert presentations, Canadian Brass has developed a uniquely engaging stage presence and rapport with audiences. Each of their concerts shows their full range, from trademark Baroque and Dixieland tunes, to new compositions and arrangements created especially for them, from formal classical presentation to music served up with lively dialogue and theatrical effects. Whatever the style, the music is central and performed with utmost dedication, skill and excellence.  The hallmark of any Canadian Brass performance is entertainment, spontaneity, virtuosity and, most of all, fun – but never at the expense of the music.
With a discography of over 130 albums (and more than 2 million sold), and an extensive world-wide touring schedule, Canadian Brass is an important pioneer in bringing brass music to audiences everywhere.  They have sold well over 2 million albums worldwide, and continue to score top Billboard chart positions. As touring legends with an enthusiastic fan base, the Canadian Brass play to packed houses worldwide. They were the first brass ensemble from the West to perform in the People's Republic of China, as well as the first brass group to take the main stage at the venerable Carnegie Hall. On numerous occasions Canadian Brass has been invited by the Canadian Government to play for visiting heads of states, becoming one of Canada's greatest resources and musical ambassadors.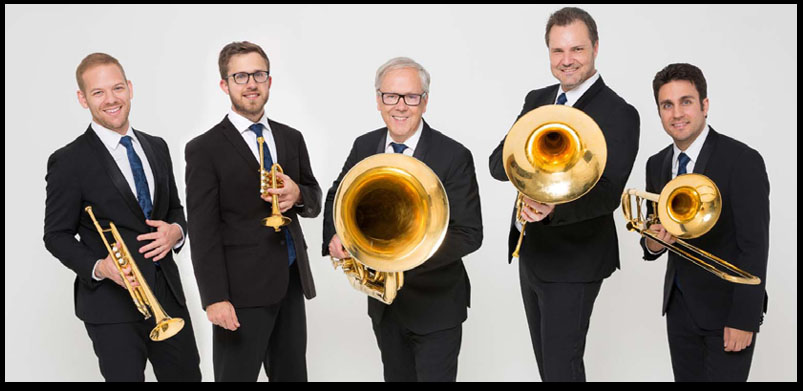 Education plays a key role in the story of Canadian Brass and each member is uniquely attuned to training the next generation of players. The quintet has also created unique and interactive videos that have gained an international audience including a series of DVDs featuring the brass in concert and teaching. On their travels around the world, they often pause for masterclasses and are more than happy to work with students and young audiences.
With four decades under their belts, Canadian Brass continues to thrill audiences around the world – and they don't look like they are letting up anytime soon!
This concert has been rescheduled from our 2020 Season, due to the COVID cancellations.