The Canadian Brass concert, scheduled for Saturday, March 28th, has been RESCHEDULED for February 20, 2021.   Please hold on to your Canadian Brass tickets or 2019/2020 season passes, since they will be honored at the rescheduled concert. The Canadian Brass concert will be in addition to the four regularly scheduled concerts during the 2020/2021 season. Updated information will be sent to ticket holders soon.
March 28, 2020 at 8:00 pm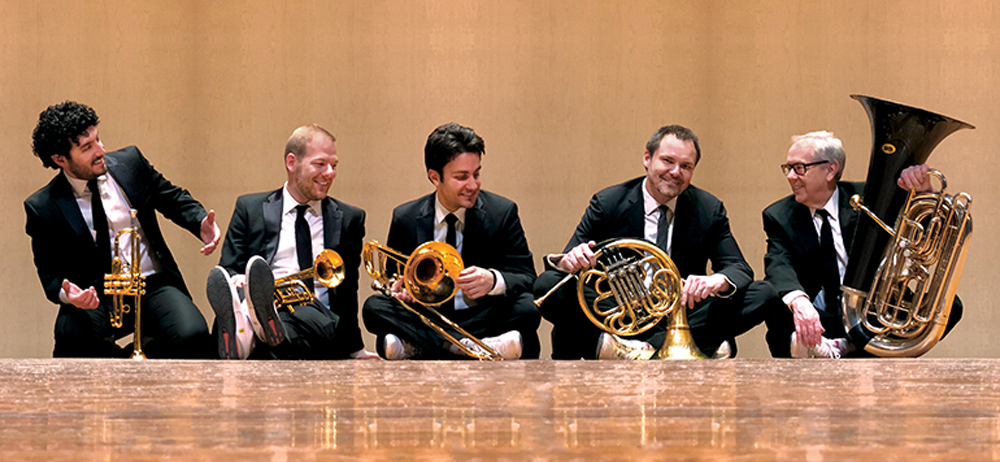 Canadian Brass is founding member Chuck Daellenbach (tuba), Christopher Coletti and Caleb Hudson (trumpets), Achilles Liarmakopoulos (trombone) and Jeff Nelsen (horn).  With an international reputation as one of the most popular brass ensembles today, Canadian Brass has truly earned the distinction of "the world's most famous brass group."
Chuck Daellenbach and Gene Watts first came together in 1970 to form a brass quintet. The three empty chairs were quickly filled and together, the group's imagination and consummate musicianship elevated the art of the brass quintet to what it is today. This was not only an opportunity to explore the possibilities of an all-brass chamber group but a challenge to bring the sound and the excitement of brass music to new audiences.
Masters of concert presentations, Canadian Brass has developed a uniquely engaging stage presence and rapport with audiences. Each of their concerts will show the full range from trademark Baroque and Dixieland tunes to new compositions and arrangements created especially for them. The hallmark of any Canadian Brass performance is entertainment, spontaneity, virtuosity and, most of all, fun – but never at the expense of the music: whatever the style, the music is central and performed with utmost dedication, skill and excellence.
With a discography of over 130 albums and an extensive world-wide touring schedule, Canadian Brass is an important pioneer in bringing brass music to mass audiences everywhere. They have sold well over 2 million albums worldwide, and continue to score top Billboard chart positions. As touring legends with an enthusiastic fan base, the Canadian Brass play to packed houses worldwide. They were the first brass ensemble from the West to perform in the People's Republic of China, as well as the first brass group to take the main stage at the venerable Carnegie Hall. On numerous occasions Canadian Brass has been invited by the Canadian Government to play for visiting heads of states, becoming one of Canada's greatest resources and musical ambassadors.
Millions of television viewers have seen Canadian Brass as guest artists on Evening at Pops with John Williams and the Boston Pops, Beverly Sills' Music Around the World, numerous PBS specials (including a celebrated appearance on Sesame Street), and late-night TV. They were the featured artists on the soundtrack to the 1988 film The Couch Trip, starring Dan Aykroyd and Walter Matthau.
Education plays a key role in the story of Canadian Brass and each member is uniquely attuned to training the next generation of players. The quintet has also created unique and interactive videos that have gained an international audience including a series of DVDs featuring the brass in concert and teaching. On their travels around the world, they often pause for masterclasses and are more than happy to work with students and young audiences. Canadian Brass is currently Ensemble in Residence at the University of Toronto after having been Chamber Quintet-in-Residence for many years at the Music Academy of the West in Santa Barbara, California, and has created an innovative brass summer course at the Eastman School of Music. In conjunction with the Hal Leonard Corporation, the Canadian Brass have also made available their extensive library of brass music for performers of all levels as well as learning tools.
With four decades under their belts, Canadian Brass continues to thrill audiences around the world – and they don't look like they are letting up anytime soon!